Stacey Solomon and Primark are teaming up once again to create a brand new kidswear collection. After the huge success of  Stacey's two previous womenswear collaborations.
The duo has once again joined forces to create a vibrant children's range to brighten up the wardrobe and have us all prepared for a staycation or day at the beach.
Stacey's warmth and great personality are seen throughout the range. I love the rainbow and animal prints featured throughout the collection.
The clothing is fun and comfortable and full of colour and has a great selection of on-trend accessories to choose from, stylish rainbow sliders, super cool sunglasses and caps.
When is the range available to buy in-store?
Launching in all UK and Ireland stores on July 20th, the 35-piece collection is priced from €2.50 up to
€16.
What are the size ranges available?
Kidswear clothing and accessories will range from 0 to 10 years old.
There are also two adult Smile t-shirts available to twin with your little one for €6 each.
My favourites from the Stacey Solomon x Primark Collection
I love this super cute denim jacket for €16. The Dalmatian jumpsuit with red strap bows for €10 is the perfect outfit for summer strolls in the park.
This grey hoodie looks comfortable. I like the striped sleeves and colourful Happy logo on the back. Good value for €11 and will see you through the Autumn/Winter Season.
These rainbow-coloured grey Amazing Sweaters are another great value piece for both boys and girls for €9.
Pair with matching grey Yeah shorts for €8 to complete the look.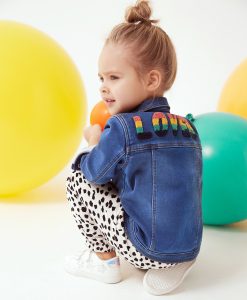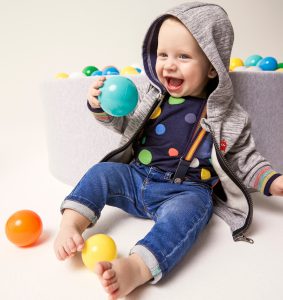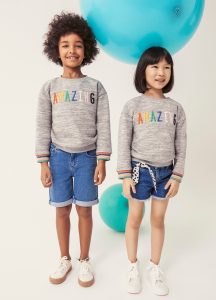 Where can I find out more?
For further information on Stacey Solomon x Primark kidswear collection please visit your local store for details or log on here.