Last weekend, we visited the 5-star Hayfield Manor hotel in County Cork, a 2 and a half hour journey from Dublin and within easy access to the vibrant Cork City.
Travelling with a nearly 2-year-old can be a big task in itself, however, once we arrived in Cork and settled into our hotel, we could relax and begin to enjoy our weekend.
When we arrived at Hayfield Manor the hotel was buzzing and had a fantastic atmosphere. Being a Saturday afternoon it was very busy but never felt overwhelming, our room on arrival was not ready in time, but we were upgraded immediately to a beautiful suite and the staff could not have been any more accommodating.
Whilst we waited on our room, we enjoyed a drink in the hotel bar which was very elegant and comfortable and also served a nice selection of bar food too, Ireland was playing France in the rugby and instead of showing sports in the bar they have a separate conference room with live events broadcast on a cinema-style screen which is a nice touch and keeps everyone happy.
Hayfield Manor – Grand Suite
Our suite was stylish and comfortable and featured a living room with marble fireplace, three-piece suite and patio doors. The bedroom had a very comfy king size bed with large windows overlooking the Manor gardens.
I loved the bathroom, it had a separate steam shower with a large free-standing bath and great Elemis spa products including eye creams and lip recovery balms.
 
Perrotts Garden restaurant
On our first night, we dined in Perrotts Garden Restaurant. I like the atmosphere it had great dim lighting and lots of Hollywood Icon pictures on the wall from Grace Kelly to Steve McQueen.
The service we received from every staff member was top class, both in their restaurant and hotel itself.
The children's menu looked so delicious you would nearly order it yourself. We ordered the Grilled Chicken Breast with Mash Potato and Carrots for Jake and he loved it.
It was great to see staff members interact with Jake and how amazing they are with children, every parent knows it can be a challenging time eating out as you never know how they are going to react.
They brought his food down to the table as soon as it was ready and gave Jake a cute little colouring book and crayons to keep him entertained.
Top Picks in Hayfield Manor
I recommend the Seafood Chowder with Carr's Water Biscuits & Lobster Oil starter.
There's nothing better than getting your breakfast handed to you in the morning. I loved the pancakes and you can never go wrong with a full Irish Breakfast, which was cooked to order.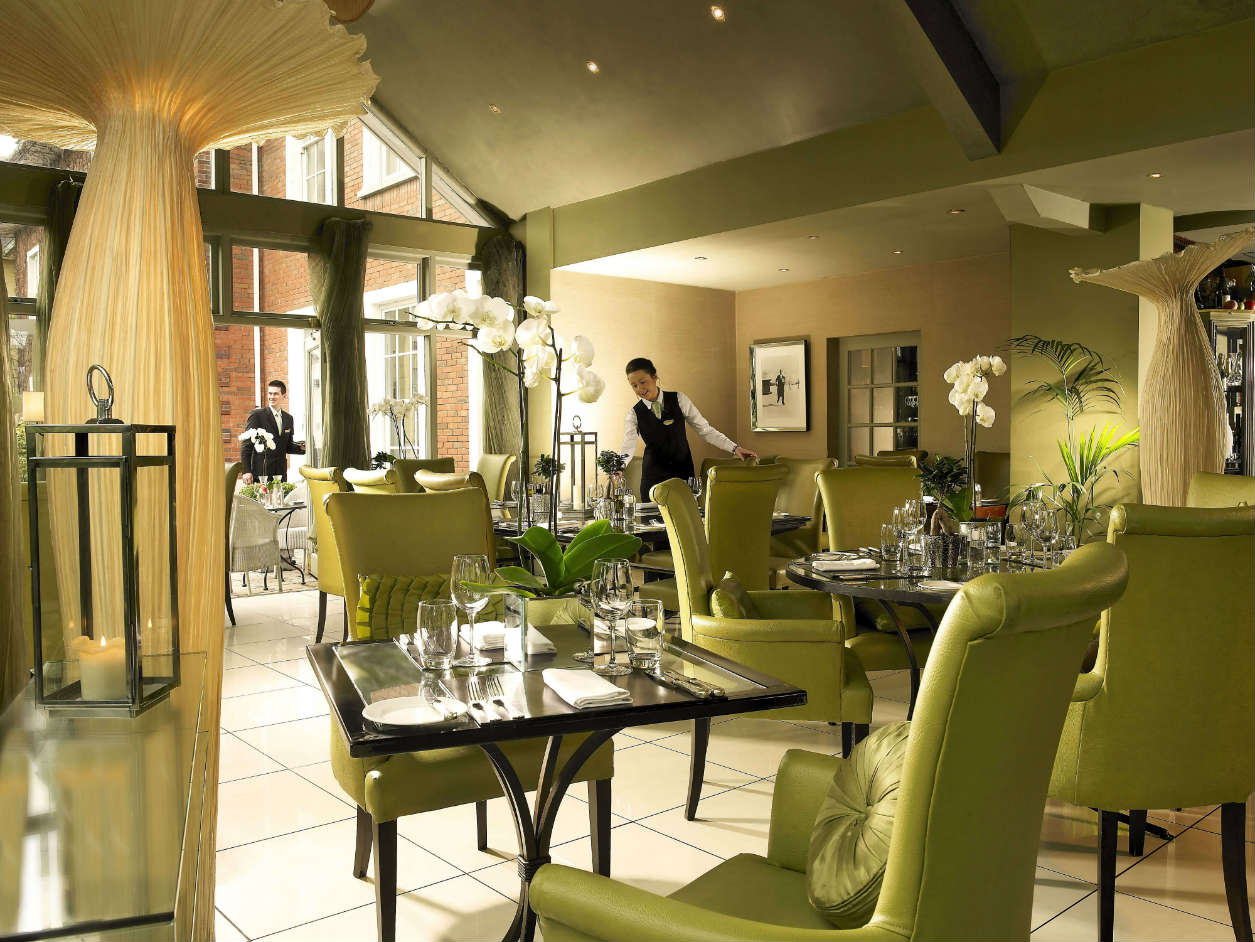 Hayfield Manor – Leisure Facilities
We had an opportunity to visit the leisure facilities at Hayfield Manor too, I enjoyed the pool area it was so relaxing. I brought Jake down for a swim at 6 pm an hour before bedtime and just before the pool area closes for children. I liked the mood in the pool area and how warm the water was.
There is also a sauna, loungers and outdoor Jacuzzi which I didn't get to sample but looked great and very comfortable, for further information on all of the facilities please log on here.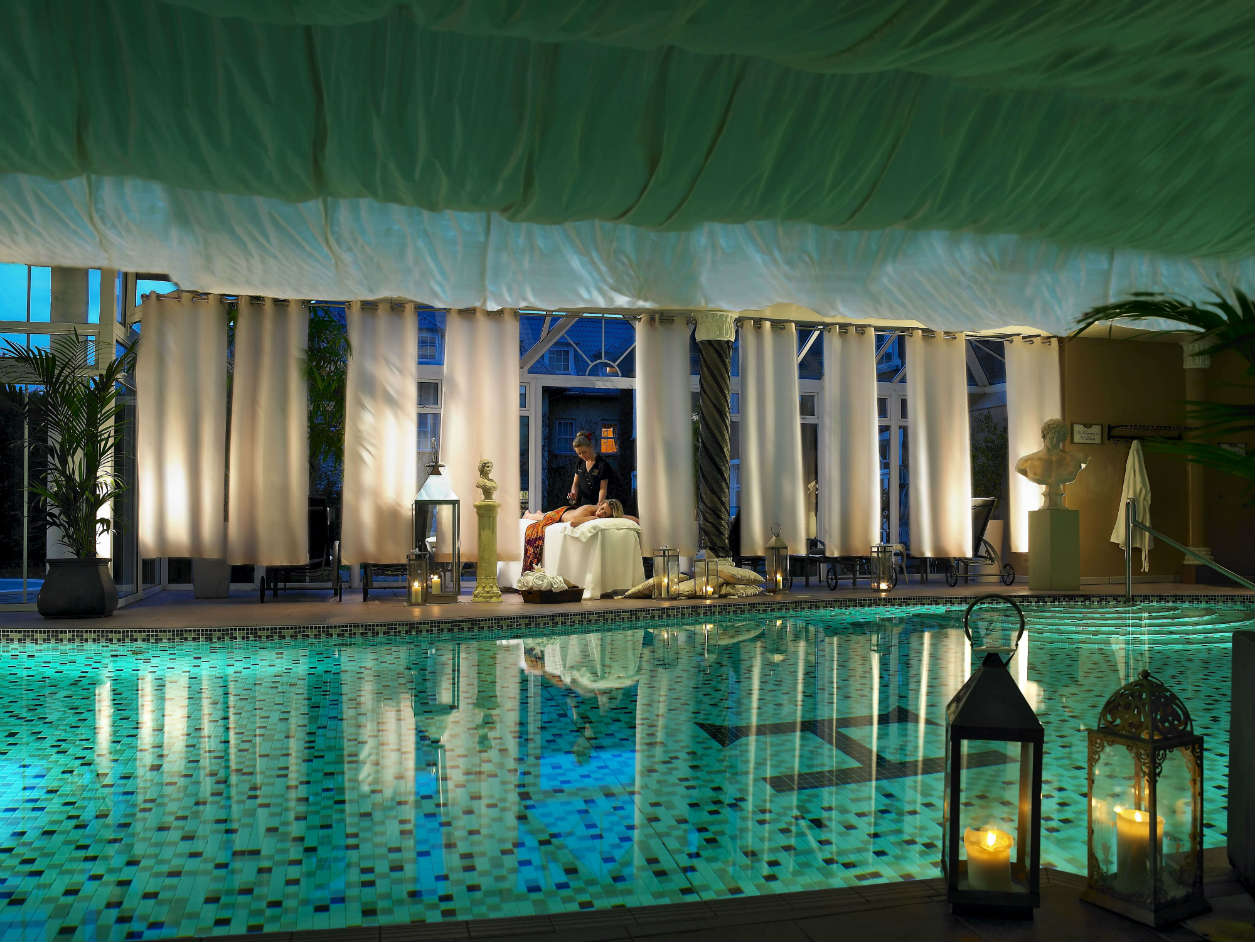 Local Attractions
Cork City Centre is within walking distance from Hayfield Manor and close to all pubs, shops and The famous English Market.
University College Cork is a few minutes walk away.
Blarney Castle is 20 minutes drive away and is situated in the picturesque town of Blarney.
Fota Wildlife Park is about 35 minutes drive away, unfortunately, due to weather restrictions the park was closed, so we couldn't visit on this occasion.
Next time we visit Cork, I would love to get the opportunity to visit Spike Island and the Titanic Experience in Cobh.
Overall we enjoyed our trip to Cork and especially Hayfield Manor, even though the weather was bad at times it didn't stop us from having a really lovely weekend. I would like to thank all the staff in Hayfield Manor for the Céad Míle Fáilte and single out Maximilian at reception for all the help he provided during our stay, we appreciate it. Overall everything about Hayfield Manor is 5 star, from the service to the rooms and facilities and the location is perfect too, we couldn't recommend this hotel enough and it's certainly one of the finest luxury hotels we have stayed in.
For further information on Hayfield Manor please click here for details.